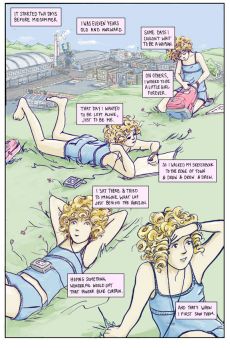 Charity puts the first three pages of our
Busted Wonder
online. It'll have a proper home built around it at the site over the coming months, but for now lives in the
purity of livejournal
.
The plan is for all eighty pages to be put onto the site in small narrative-beat sized chunks. They'll probably average around three pages or so, depending on what's happening in the story.
Comments remain down here, so if you have something to say, do say it in Charity's comments. She'll want to hear anything you have to say as much as I do. Well... except if it's any of the comment-threads standard running jokes, in which case I recommend
the Triforce
comments as a new home.
2 Comments:
mortgage articles for refinance mortgage home loans
By

home mortgages, at 10:59 PM
A
By

mortgage rates, at 10:05 AM