Warhammer Monthly 83
, with my second story for the Games Workshop folk, been out for a week and a bit now, but I wanted to have an image to accompany the hype post and I've only just got the scanner working. Click through for larger image of the panel.
Take it away, Mr.
Steve Pugh
: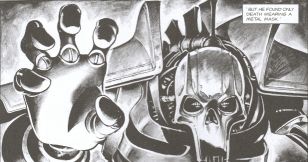 The story is called "The Chosen" and is a little tale about global ultradeath in the far future with far too much macho posturing, ironic content and explosions for its own good. I'm actually pretty pleased with it - Pugh's tore whole images from inside my head in parts and just gone further than I could have possibly hoped in others. It's also, for fans of the man, the first time he's done line and wash art in a comic.
You can
buy it
either in a local Games Workshop, order it from your local comic place or put a
direct order online
.